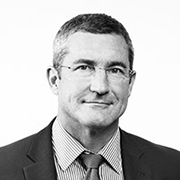 Professor Michael Wilson
Cardiothoracic Surgeon
MBBS FRACS
Professor Michael Wilson is a leading cardiothoracic surgeon with clinical appointments at Macquarie University Hospital, Mater Hospital, Chris O'Brien Lifehouse, Northern Beaches Hospital and John Flynn Hospital Gold Coast. Professor Wilson has a special interest in the utilisation of emerging technologies and minimally invasive techniques to deal with complex heart and lung surgical problems. He holds an academic appointment at Macquarie University and has extensive experience in clinical and basic science research.
Professor Wilson graduated from The University of Sydney in 1984, completing his FRACS in general and cardiothoracic surgery at Royal Prince Alfred Hospital. He then completed a fellowship in transplantation surgery at Stanford University Hospital, California, and a cardiac surgery fellowship at Toronto General Hospital. Professor Wilson spent seven years within the heart and lung transplant surgical unit at St Vincent's Hospital in Sydney before returning to Royal Prince Alfred Hospital in 2005. Professor Wilson is now establishing his practice at Macquarie University, Mater and Northern Beaches Hospitals.
Professor Wilson has a wide and varied interest in all aspects of cardiothoracic surgery including total-arterial coronary artery bypass surgery, anaortic all arterial off-pump coronary artery bypass surgery, Da Vinci Robotic Mitral repair (RoboMitral), Coronary bypass including robotic Mammary artery harvest (RoboCAG) and Thoracic oncologic surgery especially robotic lung resection (RoboLung), minimally invasive video thorascopic assisted cardiac surgery (MICS) and lung (VATS/MITS) surgery, complex aortic root, arch and thoraco-abdominal aortic surgery, Structural heart disease and transcatheter techniques including Transcatheter aortic valve implant (TAVI). He has presented extensively at national and international conferences and authored or co-authored more than 70 publications in peer-reviewed journals.
Professor Wilson has an international reputation for applying new technologies to complex heart and lung surgical problems. He is sought after for his expertise in managing patients with complex problems. He has been involved in several 'first-in-man' procedures and is a great advocate for teaching the next generation of surgeons to think outside the square and become innovative too.
See the following links for news about robotics in cardiothoracic surgery
The best surgeon will be a robot. View here.
Apple watch saves students life. View here.